My own journey as a Carer started almost by accident. Having worked previously in a bank and offices for my early days in the work force I found myself after having raised my children at a bit of a loose end. I was looking for a job that would be easy, comfortable and fit in with the demands of family life. I never expected to fall into working as a Care Assistant with RHS and this is absolutely the best job in the world.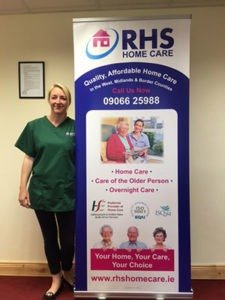 Each day is different, each day is so very rewarding.
Anyone can be trained to be a Care Assistant, but this job is not just about having the required training, (fetac level 5) but this job requires so much more that can't come from training.
There are many misconceptions to the life of the carer, my children often think I am a nurse type person, other people often say to me "it's only certain people that can do that job" or "I'd never be able to do what you do".
You need a sense of humour, you need people skills, you need to be kind and you really need to care for those that are entrusted to you.
What the training doesn't teach you is that this job really is the best job in the world. It is the most rewarding. If you are open to experience human nature at its best then this is the career for you.
You meet the very best of human nature. You also see some sad situations but the people stay with you always, even those that you have lost along the way. I can name every person I have ever cared for and I can tell you a funny story about my time with each and every one of them.
These elderly that you meet are not just who you see in front of you today they are a life time of experience and knowledge and they have lived far more than you or I. I have been privileged enough to hear the most fantastic stories of these people and their life stories.
Some days I simply am company for a lonely soul, but I get more from them than I could ever give. A fire may need lighting, a hallway may need hoovering and always a cup of tea needs brewing. Other clients may need me to help them to shower or help with their personal care. Some may use wheelchairs, some may need a hoist, the needs of each vary but the appreciation of you doesn't waver.
I have been a letter writer to one of the most amazing ladies who moved to another country but insisted that we keep in contact. She always said I had a bed there for when I visit! I have been an appointment maker for doctors and hairdressers, I have collected prescriptions. I have sat and listened when the day is hard. I have been privy to information and secrets that I will never tell.
In this job you may speak to the bin man one day and the doctor the next or you may have to deal with the public health nurse, the physiotherapist, occupational therapist and sadly sometimes the palliative care team.
I am fully trained in the fetac level 5 Health care and I also am near completion to the next level. I cannot recommend this career highly enough. There are days where it can be challenging, you can see some very sad situations when dealing with families of dementia or alzheimer's clients and when you lose a client you feel it deeply.
Sometimes you see someone suffer and they stay with you even when you are no longer with them but even on those days I wouldn't do anything else.
You see the person behind the conditions. You can see snippets of the eighty year old charmer when he was twenty. You meet the lady who  travelled the world at eighteen and had romances that no one but you knows about and, who is now in her eighties,  and still delighted with herself.
If you want to see the best of us then work with the elderly.