VMware is the global leader in virtualization solutions from the desktop to the datacenter.
Anaelle Maillard is Senior Network Virtualization Engineer working at the company's facility in Ballincollig , Co. Cork.
She told us about her about her working day and why she'd recommend a career with VMware.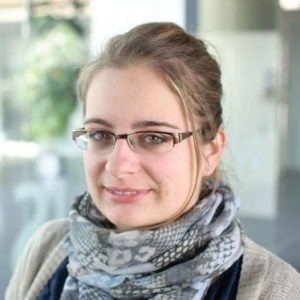 What do you do?
I provide technical support and guidance to customers using the Network Virtualization product of VMware, NSX.
I am usually dealing with big customers and complex network infrastructure.
How did you get your job? 
After graduating from my university in Switzerland, I decided to gain practical knowledge and improve one of my foreign languages and was, therefore, looking for an internship in a company abroad.
With the help of my university, I found a six months' internship at Dell EMC Cork. There I worked on Network Virtualization and helped build some proof of concept using the latest technologies from Dell EMC and VMware.
After the six months, I got offered a permanent position and stayed with Dell EMC for four years.
I started working in VMware 1 year ago and got interested in the technical knowledge needed for this position and to deep dive into the Network Virtualization world.
 What qualifications do you have?
I have a bachelor on computer science and communication systems from a university in Switzerland (EPFL).
Tell us about your typical day?
It's hard to describe what would be a typical day of work in the NSX support team as the day is always full of surprises.
I have joined the NSX team 1 year ago. After a month and a half of training, I passed two VMware exams VCPNV and VCIX.
At the end of this training period, and with two exams in my pocket, I jumped into the real work!
Even if the day to day work is quite demanding it is very rewarding. We always get the opportunity to learn new things. Every case is different; every new problem is a new mystery to solve. This could be a several days' investigation. And believe me, when you finally find the culprit, it's the best day of your life!
It can be sometimes very complex, thankfully, we have a huge amount of online training available to consolidate our knowledge and give us a better understanding of the inner working of our product.
We also get to work in an environment with a lot of smart and interesting people who take the time to help us improve our technical skills.
What's the best thing about your job?
NSX is that it is a new product and a new technology. It is always exciting to work with new technologies but what is really thrilling is the fact that our job is quintessential to delivering a state of the art product to our customers.
We are here to listen to their need and to work hand in hand with our engineering team so that the final product is not only up to their expectations but even goes beyond.
Of course, having a privileged relationship with those who design the product allows us to profit from their experience and learn from them.
Another really interesting point with I think I should also mention another perk of this job that makes it even more interesting. You get to travel.
Since I have joined the team, which was not so long ago, I had the opportunity to fly to the US to meet my colleagues from across the pond and also to Singapore. It was my first time setting foot on the Asian continent and that was an incredible experience altogether.
What's the most challenging?
NSX is a complex product that interacts with a lot of different solutions with deep security and networking features. I am always keen to learn new things and take on new challenges. This is the reason why I feel this job is a perfect fit for me.
What other skills are needed in your role?
As I am dealing with customers every day, good communication is amust-have. I will also add methodology and curiosity.
What advice would you give somebody applying for a job with your company?
Don't hesitate, go for it! VMware is a great company to work for, full of opportunities and it will help you grow. The work is quite demanding but it's also really rewarding. In addition, Vmware offers a large panel of benefits.