Natasha Gray is a Seasonal Department Manager with B&Q in Swords.
She tells us more about her job and her career journey from weekend work as a student on the checkout at B&Q to earning a place on B&Q's Fast Track Management Programme.
Tell us about your current role?
I work at the Swords store in Ireland, where I'm in charge of the gardening team and our gardening and seasonal products.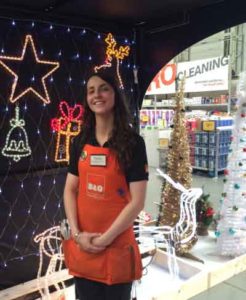 It's a really varied and fast-paced role as the products are constantly changing, so I am particularly focused on how much stock we have and making sure it's in the right place in the store for our customer.
Business management is also an essential part of my job – without the right stock, and the right amount we won't sell enough and we won't achieve our targets.
Another really important part of my role is looking after the team who work in the gardening department, it's their job to maintain the standards of the department and most importantly, look after our plants so they're in perfect condition to sell to our customers – this is so different to managing Décor, where wallpaper or paint can sit on a shelf for months with no problems. The gardening department is one that needs constant attention and monitoring so making sure my team are working well is really important.
Day-to-day I also do a bit of Duty Management, so I'll help manage the tills and deal with customer problems and feedback. Looking after seasonal stock can be quite a challenge – sometimes things will sell out in a few hours!
Keeping up with this means that no day is ever the same and as the year goes on we go through a number of changes in our products which makes the role really varied.
What did you do before you came to B&Q?
I joined B&Q when I was 16, working as checkout staff at the weekend in the Sprucefield store, Northern Ireland. It was originally just a part-time job as I wanted to be a hairdresser, so I left B&Q once I secured a job at a hair salon but quickly realised I didn't like it. I then went on to complete a Beauty Therapy NVQ with the vision of becoming a mobile beautician.
I applied for the checkouts in B&Q Sprucefield once again to build up some savings to start my business venture.
however once I returned to B&Q I realised that I loved it so much that I doubted I would ever leave again!
What attracted you to come and work for B&Q?
Before I started, I didn't really know what it was that attracted me – but once I started it became really obvious why they're such a great company to work for. Soon after I started working on the checkouts at the weekends, I began helping out in the Décor department on Sunday mornings. A few months after that I was asked to start working full time in Décor. I jumped at the chance because I really enjoyed working in that department and it already felt like a family.
I had no idea that all these opportunities would be open to me when I began, but if I had this would have definitely attracted me to work for B&Q even more.
Once I was full time, before I knew it, I was enrolled on B&Q's Fast Track Management Programme to become a manager. I had no idea that all these opportunities would be open to me when I began, but if I had this would have definitely attracted me to work for B&Q even more.
What do you like about working at B&Q?
I love the fact that every day is different. My role is so wide-ranging that I work across a lot of departments and other job roles so there's never a dull moment.
I've been fortunate enough to work at a number of different stores in Northern Ireland and Ireland and I've been supported so well through every transition. My managers have always been so encouraging and no matter where I go, or what store I work in, you can guarantee that within a matter of days you feel like part of the team and a real family. I feel like I'll stay forever!
The managers are always great at helping you understand where you fit in, and why it's so important in the overall vision of B&Q. They also seem to have a fantastic knack of employing the right people – it's what makes it so special.
What do you want to do in the future?
I would like to become Deputy Manager and then go on to manage a B&Q store of my own. I'd also love to step away from an in-store role to a field role to manage projects or be involved with the strategic management behind the stores in B&Q Head Office.
I've been fortunate enough to get involved in a few different projects since I began at B&Q, assisting with store closures and also helping stores through transitional changes to their operations, which is how I came to work at the Swords store.
I realise that sometimes the future opportunities are the ones that you don't even expect.
What advice would you give to someone joining, or thinking about joining, B&Q?
Do it! Just join us. It's a great company to work for and there are so many avenues to progress as a person and as an employee.
If you know what you want to achieve, then B&Q will support you to get there and even if you don't, they will help you to discover it.
I feel so lucky to have found something I love so much, for anyone looking to join B&Q they will look after you, invest in you and it will feel like you're part of a huge family.