The Dalata Hotel Group is Ireland's largest hotel group, successfully operating the Maldron Hotel brand and Clayton Hotel brand throughout Ireland & the UK, as well as managing a portfolio of Partner Hotels.
David Steele is the Head Chef at Maldron Hotel Dublin Airport and also Executive Chef for the Irish Football Team. He spoke to us about his role.
Tell us about your job?
My responsibilities vary from running the kitchen to being a good communicator, listener, and psychiatrist all while motivating team members to perform at their best.
Describe your career path?
I started working here as a young boy back in 1979 and worked my way up.
I have worked under many different Head Chefs and when the opportunity came about, 16 years ago, I was recommended by previous Head Chef David Hall for the position and here I am.Over the years many chefs have gone on from here to be Head Chefs as well.
Through working for the FAI I have seen the world through various kitchen windows. I have worked in some fantastic establishments, Michelin Star Restaurants including the Palace of Versailles in France.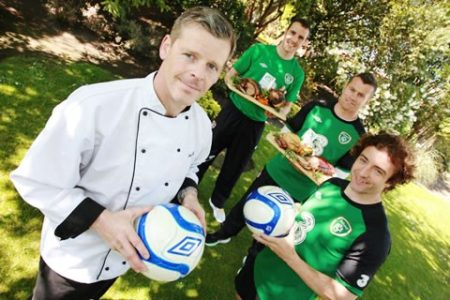 What qualifications do you have?
City & Guilds and Management of Food Hygiene
Tell us about your typical day?
I get into work, analyse the environment, correct all HACCP checks, check staffing levels are appropriate, check items ordered are correct including weights, temperatures and that all procedures are adhered to. Report any issues to relevant department heads.
I am of the belief that there is no such thing as a problem, only solutions. It's important to have a positive mental attitude.
What's the best thing about your job?
The job satisfaction. You can see it instantly in the product you produced. The customer feedback, seeing the smiling face. The positive attitude and pleasant people around me.
What's the most challenging?
Getting staff. We are a victim of our own success! Our chefs all progress and then move on. It's a hard profession and it's always challenging trying to encourage and motivate the staff. It stretches the resources and we just try to look after their mental health & well-being.
What additional skills do you need in your role?
It's all about the people you work with, it's vital to have a quality team surrounding you. A professional, hardworking team you can delegate to with trust and have their respect.
What advice would you give somebody applying for a job as a chef?
Same advice I was given when I first started. It's a really hard profession, unlike any normal business but it offers great rewards and job satisfaction. It allows for creativity and empowerment for a job well done.