Why Work For Topaz Energy
Why Work For Us
View 11 Jobs

About Us

Topaz is Ireland's leading fuel and convenience brand with over 1 million customer transactions per week on both our company owned and dealer network sites. We sold over 4.5million cups of coffee last year along with over 5 million newspapers; and more than 120,000 Irish drivers are Topaz Fuel Card holders. Topaz is the largest retail fuel company in Ireland with over 467 service stations across the country, and we are continuously growing, with the number of staff employed now at 2,200. We are always looking for talent to join our business across our family of brands; Topaz, Re.Store, Rockets and Cantina.
Here at Topaz, our Service Stations are fastpaced and busy so we look for colleagues who have a positive, results focused and goget-it attitude. We give you all the tools that you need to be successful and reach goals. We focus our attention on motivating and developing so you can excel through training and development, on-the-job learning, coaching and feedback.
GREAT PLACE TO WORK

The key to our business is enhancing the customer experience and that is driven by the enthusiasm and professionalism of our most valuable resource: our employees. Topaz has been recognised as a Great Place to Work in Ireland for the past 10 years. We have also been recognised as a Great Place to Work in Europe on three separate occasions and we are the only fuels and convenience retailer on the Europe-wide list. Our employees are our greatest resource and partnership with them is key to our ongoing success.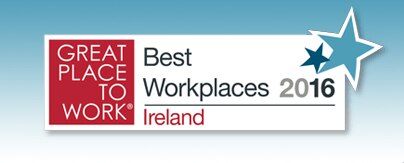 CHECK OUT OUR VIDEO
SOME OF OUR ROLES

Sales assistant – Retail and Deli
Our Retail Sales Assistants are essentially our brand ambassadors, delivering world class service, wholesome food and amazing coffee to our customers every day. As one of our Sales Assistants, you will be responsible for providing customers with fast, friendly service and quality products in our market leading and award winning Topaz and Re.Store Service Stations. Our teams are flexible for our business, hard-working, full of energy and passionate about making our customers feel great. There is ample opportunity for growth, development and progression within our retail business – in fact, over 90% of our current Retail Site Managers have progressed from within!

Site Managers
Our Site Managers are positive, future focused business leaders who achieve results through people and champion the Topaz family of brands through world class standards. The Site Manager creates a high performance culture of sales and achievement through people development and customer service and is responsible for the station business plan and all operational tasks on site. The Site Manager is a high energy and busy role with retailing excellence at the core of all decisions.
OUR REWARDS PACKAGE AND BENEFITS
Career Advancement
Flexible Working Schedules
Further Education
Employee Fuel Card and Discounts on Fuel at our Pumps
Complimentary Beverages and Employee Meal Discounts
Cycle to Work Initiative
Insurance and Tyre Employee Offers
Vodafone Topaz Employee Offer
Employee Assistance Programme
Sales Incentive Scheme
Exceptional Training and Support provided
Career Advancement is important to us in Topaz, how far you go is up to you. All of our roles are advertised internally and we encourage internal progression right across the business. In fact, over 90% of our Service Station Managers started on the shop floor!
Site Manager Julianna Harding – Dublin Port
"Having started as a part time Deli Assistant, I am proof that Topaz supports employee progression. I moved from deli to shop floor as a Supervisor and then quickly progressed onto Assistant Manager then Site Manager. I managed my first store at the age of 22. I am now the Site Manager in the busiest station for fuel in Ireland – Topaz Dublin Port. I have an extreme passion for forecourt retail and love what I do. Topaz has been instrumental in developing my career and have recently granted me a full scholarship to complete a Bachelor of Business Degree in Retail Management. I constantly encourage my team to believe in their abilities and you will achieve. In Topaz, the only person stopping you from progressing within the company is yourself. The opportunities are endless and I look forward to what lies ahead for me and my team."