Why Work For Lidl
Why Work For Us
View 7 Jobs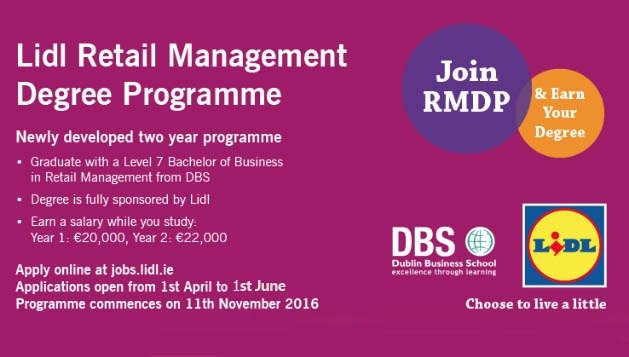 As market leader in discount retailing in Ireland, Lidl has teamed up with the country's leading independent college - Dublin Business School - to offer you this exceptional programme.
Discover how you can kick-start your retail career and gain an internationally recognised Degree at the same time - and you get paid!

Our Programme

The Retail Management Degree is accredited at Level 7 on the National Qualifications Framework by Quality and Qualifications Ireland (QQI).
This innovative course will offer you the opportunity to successfully develop the necessary skills and attributes to become a Deputy Store Manager; the future of our business.
Whilst on this course you will develop confidence as well as communication and leadership skills through the various academic modules held within your lectures and workshops at Dublin Business School, and through your practical training in our stores.
Over the course of this three year programme you will alternate between college and work, giving you the unique opportunity to put into practice what you learn in college. Not only will you have exstensive store experience, but you will also be finishing up with a Bachelor of Business in Retail Management.
Your Profile
Will you be 18 or over on 11th November this year?
Are you interested in a career in Retail Management?
Do you want to join a winning team with excellent career prospects?
Would you like to kick-start your career with a sponsored Degree in Retail Management from Lidl and Dublin Business School?
Does getting paid while you study interest you?
Are you flexible, energetic and ambitious?
Are you prepared to give 100% commitment for the duration of the programme?
The Benefits
Sponsorship of college fees alongside paid employment.
A tailored training and development plan.
Genuine long term management career prospects in an international organisation.